San Ignacio town is the heart and soul of the Cayo District, a vibrant traveler center from where all roads and activities fan out. Together with twin-town Santa Elena on the east bank of the Macal River, this is the main population center of Cayo, with lots of good budget accommodation such as Cocopele Inn, decent restaurants and frequent transport.
San Ignacio Town is not like San Pedro, existing only for tourism. It has a very positive and infectious local vibe, with a bustling farmers market and a steady flow of immigrants. Residents are mestizos, Mayas and Creole, as well as a bunch of free-spirited expats from Europe and North America. San Ignacio Town is on the west bank of the Macal River, a couple of miles upstream from its confluence is the Mopan River – a meeting of waters that gives birth to the Belize River.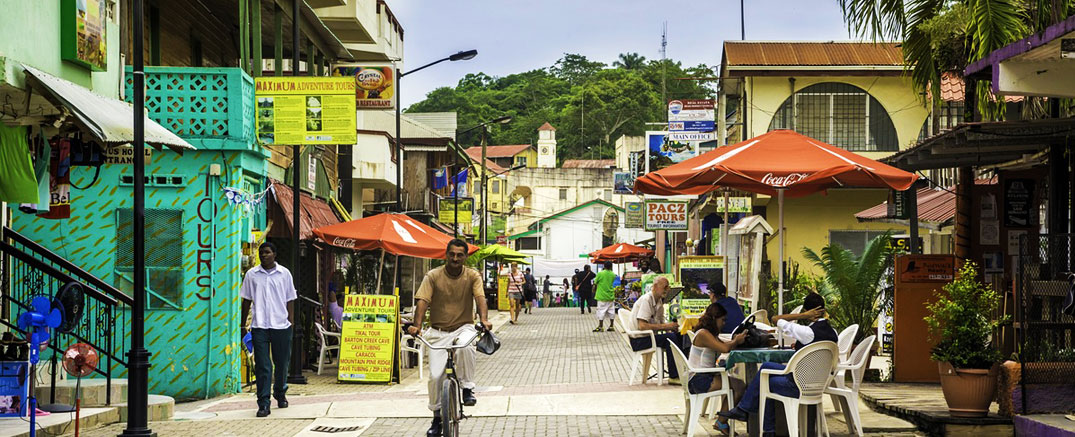 Pedestrianized Burns Ave, running north–south, is San Ignacio's main thoroughfare, with the central plaza and a market area a block to the east.
Getting a bite to eat!
There is no shortage for reasonable priced places to eat with San Ignacio being one of the most tourist- friendly district in Belize. If you're on a small budget for meals, $14 BZ will cover an entire days worth of food. For more "expensive" meals, plan to spend around $10 BZ for a meal, or $12 BZ if you splurge for the $2 BZ beer. Grocery shopping will definitely keep your budget under control. A weeks worth of food will cost about $60 BZ if you choose the right way of purchasing groceries or cheaper meals.
Here a list of things you can do during your stay at Cocopele Inn near downtown San Ignacio.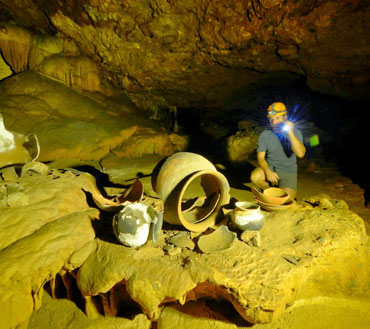 Actun Tunichil Muknal – Located 45 minutes from town is the Mayan caves at Actun Tunichil Muknal. After a brief hike through the jungle, across some rivers, and swimming into a cave, you'll come face to face with the skeletons of those who have been sacrificed to the Mayan Gods. This is a spooky experience and a bit of a must-do in Belize in general. I loved, loved this adventure. It was worth the price.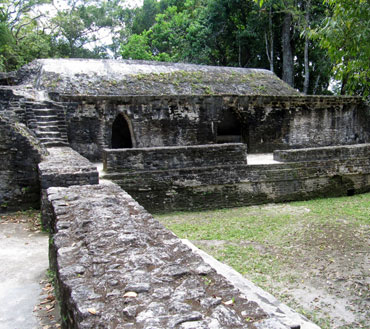 Cahal Pech – This small set of Mayan ruins is San Ignacio's most visited tourist attraction.  The site contains a visitors' center, restored plazas and temples.  The climb up the hill to Cahal Pech is strenuous but rewarding. The ruins' site and the view of San Ignacio Town from such elevation is spectacular.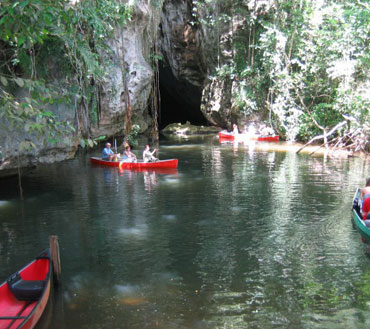 Barton Creek Cave – One of the most popular day trips is to the Barton Creek Cave.  You'll explore the cave by canoe or cave-tube, learning about the pottery, skulls and formations  dating back to when it was a Mayan sacrificial site.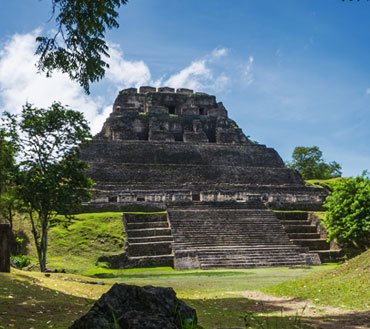 Xunantunich – Otherwise known as the "the Maiden of the Rock," Xunantunich is another must-see Mayan ruin site.  Climb the El Castillo pyramid ruin for a fantastic view of the entire site and the Mopan and Macal rivers. At 130ft tall, El Castillo is the second tallest building in Belize and is pretty imposing.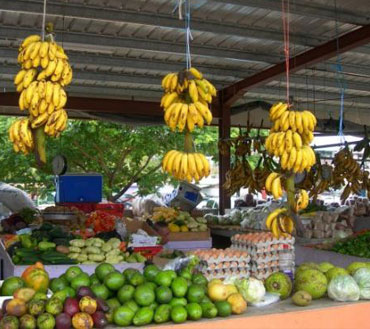 Farmers Market – If your stay includes a Saturday morning, head to the town's open air market. Farmers from all over the Cayo District arrive to offer fresh fruit, vegetables, jams and dairy products, so this is a good place to stock up on inexpensive snacks for your outings and to get breakfast.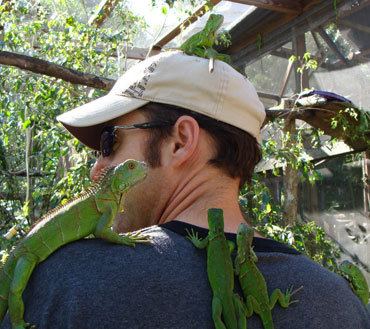 Green Iguana Exhibit – The San Ignacio Resort Hotel runs a conservation program for the Green Iguana with the aim of creating awareness and educating visitors and locals about these colorful creatures.  The resort sits at the top of a hill and is surrounded by 14 acres of rainforest encompassing 150 species of birds, various wildlife and 70 species of trees and plant life.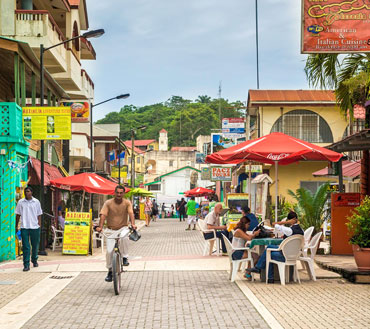 San Ignacio & Santa Elena House of Culture – Located right under the Town Council building, this tiny museum has works by Belizean artists on display, and hosts classes, performances, and interactive activities.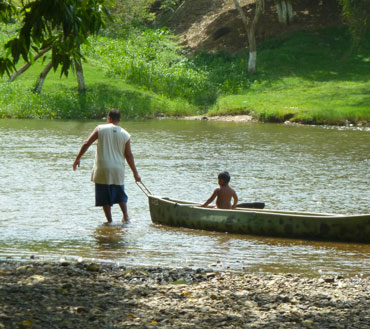 Explore the Macal River – Canoeing the Macal River is a great way to explore the area.  You'll pass through lush jungle vegetation and catch sight of the amazing birds and wildlife.  It's a good idea to stop off at some of the town's other attractions on your canoeing trip. The further up the river you travel, the better the swimming opportunities are.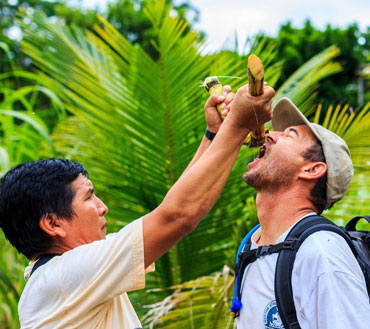 Medicinal Jungle Trail – Just facing the Green Iguana Exhibit is the entrance to the Medicinal Jungle Trail.  The trail isn't very difficult and lasts 45 minutes but you'll be able to see iguanas, anteaters and the huge variety of birds within the 14-acre enclosure.  The tour guides are extremely knowledgeable and it might surprise you what medicinal uses some of the plants have.
Money Saving Tips when in Cayo
Happy hour – Like most places throughout Belize, the bars have a late afternoon happy hour (well, more like 3 hours) where you can get two drinks for the price of one.
Combine trips – Many tour operators offer trips that combine popular excursions, for instance, Xunantunich and the Belize City Zoo. These are a good way to save on transfers to each tourist destination as well as possibly get dropped off in your next destination.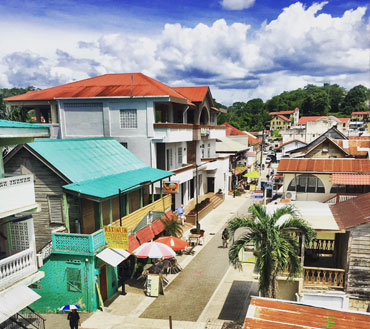 Getting around San Ignacio & Santa Elena
San Ignacio is small enough that you can easily walk to most places of interest. If you're driving, note that parking can be difficult in the city centre. Also pay attention to the one-way traffic system; Hawkesworth Bridge is one-way leaving San Ignacio while New Bridge enters town north of the market. At the turn off into the town you will see a sign mark diversion, this is the way into San Ignacio town from Santa Elena, if you continue pass the diversion Cocopele Inn will be right ahead just a minute walk from Hawkesworth Bridge. Short taxi rides around town cost BZ$5. Getting to the twin town from the Belize International Airport can be accommodated by contacting the Inn to book your private shuttle to or from the area.